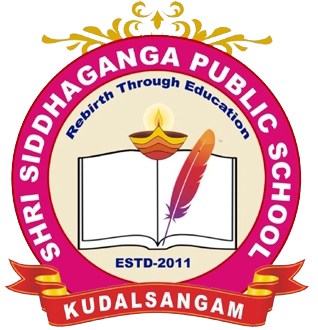 Affiliation No : 830794
School Code  : 45910
Shri Sangameshwar Rural Education and Social Welfare Trust is a voluntary organization registered under the Indian Trust Act. The trust has its registered office at Khajagal village near Kudalasangama, a famous pilgrimage centre in Hungund taluk of Bagalkot dostrict in Karnataka.
The trust has been established by Shri S.R. Navalihiremath, a Class-1 PWD Contractor and a philanthropist and smt. Rekha S. Navalihiremath for the purpose of providing access to the quality education to the rural students at affordable cost through liberal donations and undertaking social welfare activities to serve the various causes of the rural people.
The trust is rendering a remarkable service in the field of education by running Sri Siddhaganga Public Lower primary School, Khajagal (RC), Kudalasangama classes from LKG to 10th Std. in Kudalasangama. The School is housed in new spacious building equipped with the latest SMART Class facilities in all the class rooms with a separate knowledge centre for an effective interactive learning and an established computer lab. The school has a vast campus sprawling over 7 acres with large playground and good sports facilities for both indoor and outdoor games and athletics. The school is affiliated to the CBSE (Central Board Of Secondary Education).
The school, in a short of time since their inception in 2011, is fast emerging as the best school in the locality and is, therefore, the most sought-after institution for quality education.
The vision of Sri Siddhaganga Publi Lower Primary School is to provide each student a holistic, value based education in a safe, trusting and caring environment that provides self discipline, motivation, and excellence in learning. The Siddhaganga team joins the parents and the community to assist the students in developing skills to become independent, responsible and self-reliant citizens who are responsive to the changing technology and who will succeed and contribute effectively in a global community.
We strive to provide an atmosphere where every student:
Feels physically and emotionally safe.
Takes responsibility for his own activities.
Is taught to articulate the rights and responsibilities of good citizenship.
Is technologically literate and global – minded.
Will develop creative expression and individual talents.
Will learn to communicate effectively and work co-operatively.

. Will learn to think critically and solve problems and make informed choices.

Will develop self-respect and respect for others regardless of individual differences.

Will be guided to be enthusiastic, confident and inspired to realize his highest potential.

The community will recognize the worth, dignity and leadership capacity of each individual child and nurture them all to positive outcomes.
The management seeks constant guidance from experienced teachers, acknowledged educational experts, litterateurs and is always open to noble thoughts from any corner to ensure healthy development of the schools.